Summer Activities
Recreational Activities Available Include:
Open Fire Pit
Horseshoe Pits
Hiking
Volleyball Area
Children's Sandbox

Recreational Activities in our Area Include:
Golfing - located close to Aspen Acres 18 hole golf course
Horseback Riding - Many great trails in Targhee Natl. Forest
Mountain Biking - The Continental Divide Trail goes right by the ranch!
Hiking - Backcountry Yellowstone hiking in Bechler Region. TERRACED FALLS, UNION FALLS, DUNANDA FALLS and many more spectacular waterfalls accessible from south-west corner of Yellowstone.
Photography - Bring lots of film.
Fishing - Fall River and Henry's Fork of the Snake River are fantastic for fly fishing!
Scenery - Close to scenic Mesa Falls and Cave Falls in Yellowstone Park.
River Rafting and Kayaking - Early season Kayaking in nearby Fall River, year-round on the Henry's Fork
Hunting - elk, deer, moose
View Our Catering Menu
Tour Yellowstone National Park,
Grand Teton National Park, Jackson Hole, WY.
Plan your vacation starting with a cabin rental or
RV spot at Squirrel Creek Guest Ranch & Inn.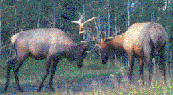 One of our most popular Summer activities is our Elk Tours. View wild Elk in a natural habitat and take in awesome scenery along the way. Extremely enjoying and peaceful, be sure to make reservations so that you can participate in this unique tour.