Idaho Summer and Winter Vacations - Cabin Rentals Near Yellowstone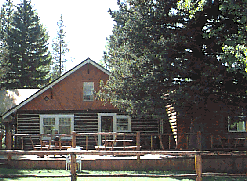 Planning an Idaho summer vacation? Come to Squirrel Creek Guest Ranch & Inn to experience a few relaxing days at your own private getaway. Spectacular beauty, nestled in a natural Aspen grove, awaits you. We offer quality affordable accommodations near Yellowstone and Teton National Parks. Squirrel Creek Guest Ranch with its lodge, cabins, bunk house, ranch house, and newly refurbished pavilion is a perfect facility for family reunions, corporate seminars, or a private weekend getaway for two. We also offer the Ashton Opera House, which is the only privately owned indoor banquet facility in the city of Ashton.
We are equipped to handle large groups and family reunions in our centrally located pavilion area surrounded by a volleyball court, fire-pit, and horseshoe pits. The pavilion is equipped with multiple picnic tables, full kitchen, and a bathroom complete with shower. The lodging facilities and two RV parks and camping spots surround the pavilion to allow a central location for group gatherings and meals. Many groups choose to show off their cooking skills, but if you desire to relax you can also have your meals catered by our staff.
Squirrel Creek Guest Ranch can accommodate larger groups, reunions, or weddings than any other facility in the Ashton area.
The Tour Divide bike route runs directly past our front door.
We support the cyclists by offering cabins, tent spaces, showers, and food and drink during the months of June through August.
We take one night reservations (recommended) for cyclists but we have limited occupancy with popular dates being totally booked at times. We will always try to provide a tent spot but reservations for cabins are recommended on weekends and holidays.

Vacation Rentals Near Yellowstone National Park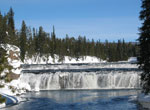 Squirrel Creek Elk Ranch & Inn is located within 20 miles of the rugged and remote south-western section of Yellowstone National Park. Located on the Flagg Ranch Road (1200 North) there is National Forest to the east complete with rivers and lakes for fishing, hunting, and sightseeing. The Bechler-Falls River basin is also full of waterfalls and is only accessible by the gravel Cave Falls Road through Ashton, Idaho. Squirrel Creek is perfect location for those looking to explore the awesome beauty of the southern Yellowstone Park area.
Address: 4635 E. 1200 N., Ashton, Idaho, 83420
GPS Coordinates: 44.057507,-111.227013
Attractions that our guests often visit while staying at Squirrel Creek Guest Ranch:
West Yellowstone, Montana
Grand Teton National Park
Upper and Lower Mesa Falls
Jackson Hole, Wyoming
Island Park, Idaho
Big Sky and Grand Targhee Ski Resorts
Henry's Fork, Fall River and the Teton River
Harriman Sate Park
Grassy Lake
St. Anthony Sand Dunes
Squirrel Creek is located close to 2 golf courses, world class fly fishing, and Targhee National Forest. In addition, try out our private fish ponds stocked annually with large rainbow trout.

Your lodging choice for the perfect summer or winter vacation.