Outdoor Weddings at Squirrel Creek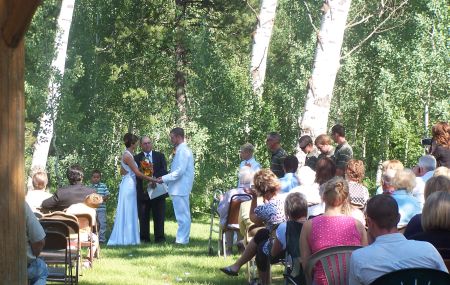 Squirrel Creek Guest Ranch hosts several weddings every summer. This ideal location, with it's innate beauty and relaxed atmosphere, allures many couples to hold their weddings and receptions on our grounds. Outdoor Barbeques are popular and festive events for the casual wedding reception. Having friends and family together in one place is very popular with most of our wedding guests. Most importantly, Squirrel Creek Guest Ranch allows everyone a chance to relax and enjoy the event…even the Bride!
---
Call or contact Squirrel Creek Ranch to discuss the many options available to plan that special event. We can cater food, drinks, and even put you in contact with vendors to assist you in decorating for the event. The combination of these two facilities allows a great amount of flexibility at a terrific bargain any time of the year.